Anne Bradstreet (played by Marcia Hoehne) will appear "in person" to talk about her life and poetry and interact with the audience. Anne remains in character throughout the presentation, knowing only her own time period, but Marcia can "be herself" afterward to take questions, if desired. (Audience: high school and up.)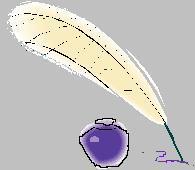 Current Available Programs
Writing Mysteries -- (Grades 6-8, 50 minutes)
What it's like to be a writer, how a book gets published, tips on writing mysteries, plus a hands-on exercise.
Writing Historical Novels - Variation on above program with emphasis on historical fiction.
Publishing a Book: Experiences Along the Way -- (Adults, short version 10-15 minutes; longer session for writers or educators, 50-60 minutes)
How to Host a Successful Author Visit -- (Educators)
Many variations are possible. For more information, including fees, contact me.