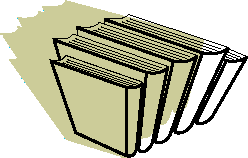 "Sit up straight, Marcia . . ."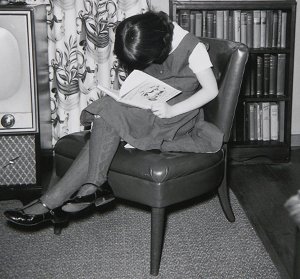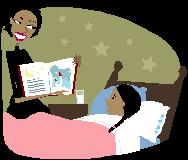 I didn't believe my mom when she said I always buried my nose in my book. So one day my dad snapped the picture at the upper left as proof.
That's how it all began -- with reading. My mom read to me so much during my preschool years that I learned to read before kindergarten. When I was in elementary school, my dad took me regularly to the library in our small Wisconsin town for a new stack of books.
I enjoyed Nancy Drew, The Happy Hollisters, Mrs. Piggle-Wiggle, Caddie Woodlawn, Anne of Green Gables, and many more titles than I can remember.
When I was about nine, I began writing my first book. I made up my own girl detective, two villains who posed as schoolteachers, and a haunted chimney. The book was called -- you guessed it -- The Haunted Chimney. I did not know why the chimney was haunted. I did not know how the detective was going to solve the mystery. I didn't finish the book.
In high school, I was ultra-quiet, got excellent grades, spent most of my spare time daydreaming, and read more books -- Green Dolphin Street, Little Women, To Kill a Mockingbird, The Scarlet Letter, Johnny Tremain, and too many others to count. I started writing more novels, and sometimes got as far as page 80 before petering out.
At Carroll College, I majored in math and business -- math because I loved math, and business so I could get a job. But I didn't really want a job. I was too busy in college to do much reading or writing that wasn't required for my classes, but by my senior year I longed to write fiction again. Just in time for graduation, I knew for sure what I wanted to pursue.
After college, I got married and worked at a few different jobs. I stayed home with our three children and kept reading and writing. Jane Eyre, Pride and Prejudice, Rebecca, Gone With the Wind, The Grapes of Wrath, The Good Earth, and on and on. I read books and magazines about writing, attended writers' conferences, and studied book publishers. I began to sell my writing in 1988. In 1993 my first book A Place of My Own, was published by Crossway Books.
Nine books later, I still love writing. I teach two courses for The Institute of Children's Literature. I speak to school groups and other organizations. I do occasional freelance editing projects.
But my life isn't all books. I love spending time with my husband and our grown children. I love flowers, photography, math and word puzzles, history, research, home improvement, and sometimes even cooking and exercise. I love our church, the Bible (the Book of books!) and singing on our worship team. Most of all, I love my Lord Jesus Christ. He has blessed our family to the full.